Core Values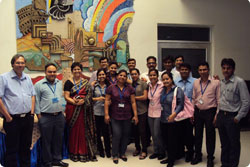 We at ASHKOM understand that companies require more than a skilled candidate, they reach for employees who are productive and exhibit a positive attitude and have the ability to become a part of the team.The main focus is to fit the right person at the right post.Ashkom propagates the philosophy of PSP ; People-Service-Profit; we believe that satisfied and motivated People give good Service; good Service gives larger Profits to the organization; these Profits are reinvested & shared with our People who give good Service. It's a full ongoing cycle and we call it the PSP philosophy.
Vision
To promote talent worldwide & become Market Leaders in Quality Recruitment, Out-Sourcing & Skills Enhancement
Values
Integrity and Honesty
Service First
Teamwork and Communication
Accountability
Mission
Our mission is to improve our clients' business performance by
Helping clients streamline HR administration, optimize HR practices, and maximize people and performance.

Constantly adding to our knowledge about employment management through research and improving the tools we provide to clients accordingly.
Increasing awareness of the relationship between employment management and business performance.

Leading by example to demonstrate that human resource excellence drives business success.